Passion, Attitude, Respect
Unlike traditional basketball jerseys hanging on the wall, BallinHK creates wooden replicas of jerseys.
With our unique and customized designs, not only can you showcase your favourite jerseys,
but also boast stylish wooden ones.
Let us show our deepest respect to the basketball players we admire, and always be reminded of the core
values and attitudes that basketball brings us.
BALLIN X FUBON BRAVES
臺北富邦勇士在爭取榮耀的道路上,始終專注於自己,阻隔外界噪音,增進自己不斷地強大茁壯,全隊團結一心缺一不可,才能成為獨一無二 ONE OF ONE 的冠軍隊伍。BALLIN 與台灣P League+職業籃球隊富邦勇士聯手推出授權木板球衣
立即選購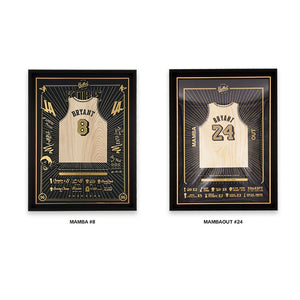 Blog
---
All Star Weekend 2023期間限定,Ballin在Footlocker HK實體店舉辦了畫廊展示活動,展示其獨特且引人注目的木製球衣藝術作品。此次活動獲得了巨大的成功,吸引了大量的時尚和籃球愛好者前來參觀。 展示的木製球衣藝術作品涵蓋了多種設計,每個設計都是由高質量的木材精心製作而成,捕捉其代表的球員的本質比起傳統球衣真正獨特而迷人。 作為專注於籃球藝術的品牌,Ballin 在體育靈感的時尚界中樹立了自己的獨特地位,提供真正專業的產品,吸引特定市場的消費者。       此次活動在Footlocker HK實體店舉辦,是時尚和鞋履領域中知名而受人尊敬的品牌。通過與Footlocker HK合作,Ballin能夠利用其現有的客戶群體和品牌認知度,幫助吸引更多的人參加活動,並在活動周圍產生更多的關注。 除了展示的木製NBA球衣藝術作品外,此次活動還包括了其他活動和景點。參與者可以與Ballin團隊見面,了解更多關於品牌和產品的信息,並參與互動體驗。 此次在Footlocker HK舉辦的畫廊展示活動對Ballin而言是一次巨大的成功。它允許品牌向更廣泛的受眾展示其獨特和高質量的獨特產品,建立品牌知名度,並從目標市場獲得有價值的反饋和見解。敬請期待Ballin未來的活動和產品發布!更多影片可以 官方IG 觀看