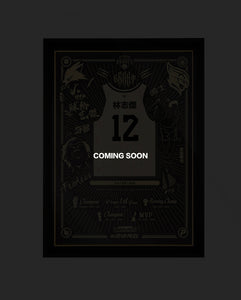 FUBON x BALLIN Wooden Jersey LIN 林志傑 - ALL STAR
Regular price
$2,500.00
Sale price
$1,999.00
---
【Prime Curry · The Peak at age 33】
Concept Behind:
337 three-pointers, breaking the regular season record, averaging 5.3 goals per game;

Become the 20-21 scoring champion, averaging 32 points per game, FG% 48.2%;

All Stars Game 3-Point Contest beat Jaylen Brown, Jayson Tatum and others to win the championship;

4975 Assists, becoming the all-time assist king in GSW

Curry at the top, full fire. Baby-faced Assassin, absolutely competent. He found his "instruction manual", knows how to get to PRIME's 2020-21 season, but can't get into Playoff. There is no chance to compete for the bid, and it can be said that Curry's chance to get the MVP is directly cancelled, because there has never been an MVP who can't make it to Playoff in history.
At age 33, he's still on his way to the top, playing 63 games with 34.2 minutes per game. This is life; just do your best and don't leave any regrets.
Product Details
【size】:35 x 47 x 5 cm
【raw material】:Mongolia Pine
【Production process】:
Hot stamping
Screen printing
Hand-drawing design
Assembling      
Handmade remarks
*Due to the 100% handmade process, the product you receive may slightly different from the product picture.
*3M double-sided velcro is suggested to use to hang the product.
Review:

Shipping
You will receive the product within 7-14 working days once you have made purchase.
Shipping Fee (HKD) - SF Express
Hong Kong - $40-$50
Taiwan - $70-$100
Macau -$70-$100
According to different product weige, there will be corresponding shipping costs
Tax
*According to Taiwan's import tax rate, the tax will be charged to the buyer upon arrival, and the specific amount will be collected by the customs.
FAQ
Q1: What are the payment method?
A1: We accept credit card (VISA, MasterCard), PayPal, bank transfer, Payme, FPS.
Q2: How do I know that BallinHK has confirmed my order?
A1: You will receive an confirmation email (Thank you for your order). When payment is successfully verified, you will receive another email (Invoice for order #0000)
Q3: How do I know my payment is successed?
A3: Through:
Payme, FPS, incoming credit, please send a screenshot of the transaction link/transaction record together with the order number to enquiry@ballinhk.com for customer service mailbox to confirm
Q4: When will I receive the goods after confirming the order?
A4: It will be delivered to the designated address within 7-14 working days
Q5: Why is the product I received is slightly different from the product picture?
A5: Due to 100%h handmade progress, each product is unique from the product picture
Q6: Why there is dust?
A6: Shipping and packaging by SF Express may cause dust running into the product, you can wipe it again once you have received.
Q7: Will the wood get moldy?
A7: All wooden material will be sprayed with a layerVarnish (latch frame) to prevent mildew